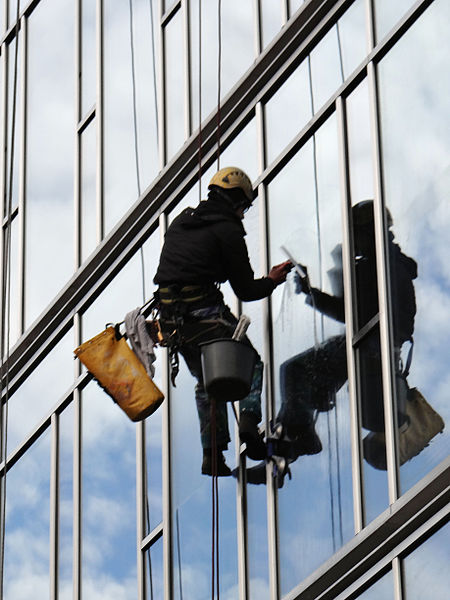 If you are a citizen of big city, you know the problem of keeping windows and facades clean. Industrial dust, gases and other factors have a negative impact on them.
And it's totally a bad idea to put yourself out of the window on 20th floor to wash the window. First of all it's dangerous (20 floor, man!- это лучше убрать). Secondly, let's be honest — you can't clean the whole window from the inside. You need special equipment…..and we have one!
How many times did you see these guys hanging down on ropes? They are professional industrial alpinists. We can offer you high-quality facades and windows cleaning services.
Just call us and tell the footage. We will make caluclations and tell you the price.
 Prices
| | |
| --- | --- |
| Windows and facades cleaning (from 25 m2 to 150 m2) | from 35 hrn |
| Windows and facades cleaning (from 150 m2 to 300 m2) | from 25 hrn |
| Windows and facades cleaning (from 300 m2 to 600 m2) | from 20 hrn |
| Windows and facades cleaning (from 600 m2 to 1000 m2) | from 15 hrn |
| Windows and facades cleaning (from 1000 m2) | contractual |